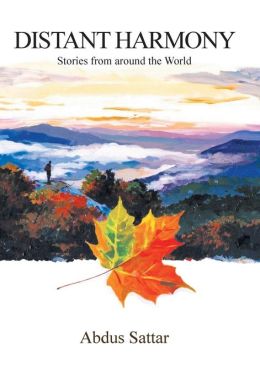 ---
Praise for Distant Harmony "The narrator of these tales journeys through time and space, fulfilling his own creative quest. Through his captivating voice and vision, Abdus Sattar transforms the disharmony of distant places into a rich melody, textured with strains of faraway wars, familial tragedy, yet always overpowering love." — Brenda
---
This book is a wonderful read. It is without a doubt one of the most entertaining books I have read in many years. The use of the written word to help me realize thoughts and feelings was almost
magical. This book will paint a memorable picture of a world that is getting smaller all the time. This is a book you must read.
---
I finally took the time and finished reading the book. It was excellent and it showed how people deal with hard times in life and move on. Distant Harmony is a
good story book just dealing with life.
Abdus Sattar did an excellent job.
---
September 2013
Congratulation Sattar !! You are one of the very few Bangladeshis who wrote such a wonderful book of short stories. Unlike many writers you have shown a wonderful talent of telling stories that goes deep into the hearts of the reader. Thanks to Amazon and Barnes and Noble for publishing this book. I am also overwhelmed by knowing that some major colleges have selected 4/5 stories from your book to teach their students. Oh, what an honor!
I am looking forward to see more of your books in the near future. Rashed
---
Format: Paperback
  Amazon Verified Purchase 
I so enjoyed reading Distant Harmony. a bit of history with an interesting twist of personal. a quick read. I found myself wanting to read more when I finished. Lovely stories altogether, looking forward to reading more of Abdus Sattar.
---
By:
Brittany
 on September 8, 2013
Format: Hardcover
A beautifully written book, with magnificent stories that reach your soul. I would recommend this book to anyone. One of the best books I have read in a long time.
---
Amazon Reviews: Sabrina Haque:
http://www.amazon.com/Distant-Harmony-Stories-around-World/product-reviews/1475964870/ref=dp_top_cm_cr_acr_txt?ie=UTF8&showViewpoints=1
As a young adult, you wouldn't suspect me of reading a collection of tales, or I should say, a story revolved around the history of Bangladesh and past memories. Usually people of my age would read romance, adventure, and fantasy novels. However, once I sunk my teeth into this book I was perplexed by the amount of philosophy that the author, Mr.Sattar, placed into this novel. Everytime I finished reading a story in the book I would think about the hidden message that the author was trying to convey. Sometimes, it took me a while to decode the message by flipping back and re-reading the selection, but eventually I understood and came to immerse myself into the life of the author. I loved how the author gave very detailed descriptions and embedded figurative language as well. I could smell, taste, and see everything the author described about Bangladesh. Overall though, the reason I gave this novel 5 stars was because it made me feel emotional. In my head, I'd rant about whether I disagreed with something, feel my heart ache when something depressing occurs, and smile when the mood of the story was light. Mr.Sattar weaved up a story that can be enjoyed of people of all ages, even a teenager like me. The history, the ruin, the happiness, the sorrow, and the love all wrapped up nicely in 1 book.
I hope to see more of this author.
---
Barnes and Noble Reviews:
http://www.barnesandnoble.com/w/distant-harmony-abdus-sattar/1114583405?ean=9781475964882
1. Anonymous

Stunningly beautiful. Not a fluff entertainment but an addition to the World Literature.


2. Anonymous